Duchy of Westridge



Capital

Westridge

Demonym

Westridgean

Government
- Ruler

Hereditary Monarchy
Maxen Montclair

Legislature

House of Gentry

Area (Land)

107mi²

Population
(As of 623 K.C.)

33,000

Currency

Stormwind Coinage

Kingdom Allegiance

Kingdom of Stormwind
The Duchy of Westridge is an estate within the realm of the Kingdom of Stormwind. It is composed of the mountainous land, foothills, and coast south and west of Stormwind City. The House of Montclair has reigned over Westridge for generations, building up its infrastructure after the estates of Stormwind broke free from the Arathorian Empire.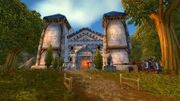 Currently Westridge houses the
Westbrook Garrison
, one of the primary command centers for the
Kingdom of Stormwind
's military forces. The Keep falls under the administration of the the current Duke of Westridge and Lord-Marshal of Stormwind's
First Regiment
, Lord
Maxen Montclair
, and his wife, Duchess and Lieutenant of the same unit,
Mairaed Montclair
.